Community Action Updates
4.6.2020 Agency Updates
4.1.2020 Agency Updates
See Iowa Legal Aid's page for updates regarding stimulus payments, evictions, foreclosures, SNAP benefits, and more. I highly suggest you read these important updates!!!
Staff please see the 4/1/20 Employee News from Sheri under Current Employees.
3.27.2020 Community Action Updates
All neighborhood center emergency food pantries are open daily. Please call your local center for a pickup appointment.

Donations of pantry and hygiene items are appreciated. If anyone in your home is ill or has been exposed, please refrain from donating at this time.

Agency Overview Update 3.27.2020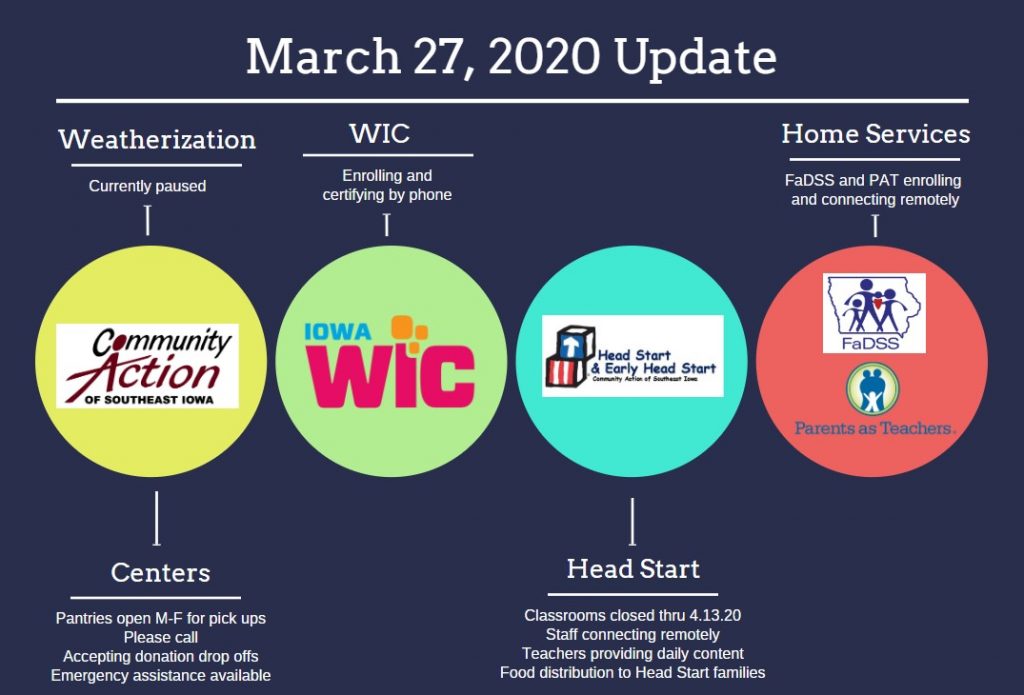 3.26.2020 Community Action Updates
Federal Notice of Families First Coronavirus Response Act – Explaining paid sick leave and expanded family and medical leave.
Staff please see the current employee section for the 3.26.20 update from Sheri.
Energy Assistance (LIHEAP) has been extended until May 31, 2020. Disconnects will not go out until May 1, 2020 if you qualified for LIHEAP and still owe your utility. Apply for LIHEAP online or call your local center to apply.
3.25.2020 Community Action Updates
Central Office is closed to the general public. Please call with questions: 319-753-0193
3.23.2020 Community Action Updates
Head Start classrooms are closed until April 13, 2020. Food distribution is occurring.
Local neighborhood centers are staffed but locked. Please call your local center to make an appointment to pick up food, assistance by phone, or other needed help.
Many specialists are working from home and connecting with client families by means other than face-to-face.
Other Agency Updates
3.30.2020 Iowa Workforce Development

UNEMPLOYMENT for those related for COVID-19: For those who are SELF-EMPLOYED, independent contractors, nonprofit employees, and gig economy workers, or requesting an extension of benefits and are not currently filing weekly claims, please submit your initial application now.
Claims that are filed and identified as a direct or indirect result of COVID-19, will not be charged to employers. Fact-finding interviews for these claims will be waived and not be held although employers will be notified of claims received.

3.30.2020 Iowa Utility Board notice regarding shutoff notices and disconnects for utilities in Iowa.
3.27.2020 SNAP/Food Assistance Benefits expansion, Walmart and Amazon use for qualified foods, extensions, and more. See the announcement here.
Helpful Links
Iowa Legal Aid has a GREAT collection of resource information on how the law and governor's proclamations apply to people in a crisis, their rights, rent, mortgages, court orders, unemployment, abuse, etc.
Answers Now by Iowa State Extension Office has online events, resources, and information. Call, text, email or research their site. Offering free one-on-one financial conversations as well.
Live updated childcare availability map Following Governor Reynold's announcement of the importance of childcare availability for essential workers, the map went live illustrating real time availability of child care throughout the state.
Are you a part of a credit union? Your small business (less than 5 people) may qualify for the Emergency Relief Fund.
Emotional Support Resources
Self Care Resources
General COVID-19 information: