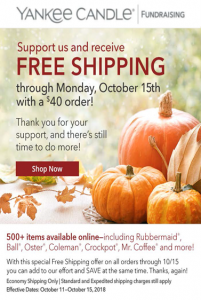 The Public Relations Committee is selling Yankee Candle products. Funds raised go towards getting the word out about our agency. 
You can make an order with one of our committee members at any of our locations before November 2, 2018 or online orders support us through January 10th at this link with group ID# 99530193
FREE shipping for online orders over $40 now through Monday October 15, 2018.
It's more thank just candles you can order; they also have kitchen accessories, garden items, gift sets, decor and other things.