The Low-Income Home Energy Program (LIHEAP) application period for heating assistance has been extended to May 31st, 2020. 
The Low-Income Home Energy Assistance Program (LIHEAP) has been established to help qualifying low-income Iowan homeowners and renters pay for a portion of their primary heating costs for the winter heating season. The assistance is based on household income, size, type of fuel and housing. Contact your local neighborhood center for an appointment or more information.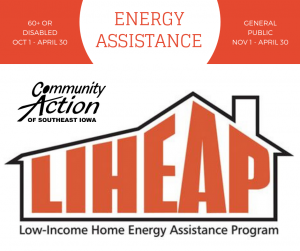 Start an application online You can securely upload documents, verify your address, and more.
2020 English and Spanish Printable Handout
Spanish Information / En Español
WHEN TO APPLY:
Elderly (60 & over) or disabled can call for an appointment beginning on the first business day of October.
Appointments for all other households begin the first business day of November.
Anyone with a current disconnect notice may apply the first business day of October.
Applications are taken through the last business day of April.
HOW TO APPLY:
Contact your local center for an appointment.
WHAT TO TAKE:
30 days documentation of ALL household income for all adults in the household (or all annual income documentation such as taxes)
Proof of Social Security numbers of all household members (Social Security card, 1099, W-2, USCIS or I94, or other official document with a verified social security number)
Most recent heating bill (must match residence address)
Most recent electric bill (must match residence address)
Birth dates for all household members
WAGE EARNERS:
Please bring copies of your check stubs for the past 30 days period preceding the date of application or a copy of your federal tax return.
FIXED INCOME:
This income may include: Social Security Benefits, Supplemental Security Income, Family Investment Program, Veteran's Assistance, Unemployment Insurance, child support, and pensions. Bring proof of income for the previous 30 days. If you are submitting a Federal Tax Return, you must provide documentation of ALL income for the entire tax year.
SELF-EMPLOYED/FARMERS:
Please bring a copy of your most recent federal income tax return.
NO INCOME:
Those without an income, please fill out this minimal income form. At your appointment the specialist will determine if more documentation is needed.
Child support, FIP and utility checks are considered income; please bring documentation to your appointment.
Note: Failure to bring the needed documentation to your appointment will cause a delay in processing your application.
Call your local center to schedule an appointment.
Summer crisis funds may be available to assist with disconnect notices. Contact your local center for details.
Questions about utilities? The Iowa Utility Board may be able to help.