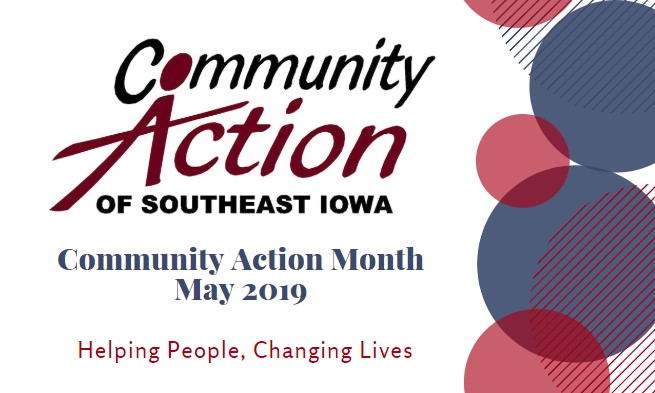 May is Community Action month. This year, 2019, marks the 55th year since the Community Action Network was established to help American families and communities overcome obstacles to poverty. Over 1000 agencies across the country are working every day to create opportunities and transform the lives of their neighbors making communities stronger and helping families across the US thrive.
Executive Director, Sheri Wilson notes that "Each May, during Community Action Month, we reflect on the impact our network has had on families. Last year, we served 13.54% of the population of southeast Iowa. People out there need assistance. And those people aren't always the ones you picture. Poverty looks different than we might expect. Sometimes it is a single elderly person who is falling through the cracks. We are here to help."
Community Action Agencies serve 99% of all American counties with life-changing services to help families achieve financial stability. All agencies are locally controlled and are represented by the private, public, and low-income sectors of the community. "We are proud of our communities' participation and ongoing evaluation of the area," said Wilson "Their engagement and input helps us to be more effective in our approach by determining the needs of southeast Iowa."
Community Action of Southeast Iowa is a member of the National Community Action Partnership and the Community Action Network, which was born out of the Economic Opportunity Act of 1964. Community Action of Southeast Iowa is dedicated to alleviating the conditions and causes of poverty by building partnerships and strengthening people through quality services.