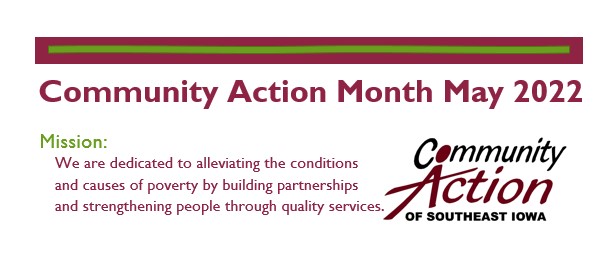 Celebrate with us.
Take a virtual tour of our locations:
Read a news story about us from this month:
We'll be sending out short weekly e-newsletters. Sign up or look at past issues here:
Coordinate your wardrobe with us on Wednesdays:
Take Action with our weekly prompts:

Week of the 1st: Sign up for our e-news.

Week of the 8th: Donate to our Food Pantry at any location.

Week of the 15th: Have a SOUP-er week by organizing a soup dinner with new/old friends or co-workers.

Week of the 22nd: Send a thank you.

Week of the 29th: Share something you learned this month.

Relax and do some coloring of the Huggy Heart
Take a picture with our Community Action love sign
Follow us on Facebook

Use hashtags on your posts that relate:

#CommunityAction #CommunityActionWorks #BeCommunityAction #HelpingPeopleChangingLives

Watch short videos on our YouTube channel
Share information and resources with others.

Follow the

Iowa Community Action Association on Facebook

as they celebrate all 16 Iowa agencies covering all 99 Iowa counties.
Tell us and send us pictures to show how you're joining in celebrating with us and you may be featured on our Facebook page or e-newsletter. community.action@caofseia.org or text 319-572-4612
Thank you for your partnership! We couldn't do what we do without you. Please pass this along and help us spread the news!